Safety Glasses
Whether you work in a factory or are out mowing the lawn, safety glasses will protect your eyes. Even if you have a hobby that requires close work and working with small items, protective glasses are worth your while. It's smart to wear them anytime you are doing something that could cause serious damage to your eyes.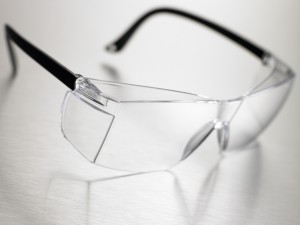 Depending on your needs, there are many types of safety glasses to choose from. The wrap-around style is great because it protects the eyes all the way around. There are polarized safety glasses that fit the face like a glove to protect the eyes from particle damage and extreme sun exposure from reflection off of glass, metal, snow or water. A good pair will also be scratch proof and protect against UV-A and UV-B radiation.
Metal safety glasses are a smart choice. Some of them have no frames to allow for better sight, comfort and flexibility. The perfect glasses to protect the eyes should also be able to withstand a strong impact. These are the kind that should be worn in heavy industrial work, hammering concrete and factory work. They are still available with lightweight temples, are scratch proof, fog-resistant and made with polycarbonate lenses.
For those who want to wear their protective glasses without their regular prescription glasses, they can purchase prescription safety glasses. These glasses are even available for bifocals. By wearing the prescription style glasses you will be even safer without having another pair of glasses underneath the safety ones.
Glasses for safety don't need to be cumbersome and ugly. There are very fashionable ones available for both men and women. This way you don't have to worry about taking them off as soon as you leave your work place or hobby table.
If you're looking for safety glasses, check out safetyglasses.com today!