Polarized Eyewear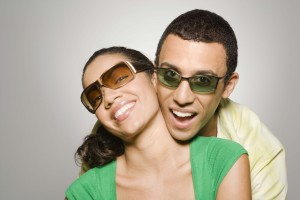 The optimum way to protect your eyes and see clearly for sport and leisure is to choose polarized eyewear. Polarized eyewear ensures that your eyes are protected and your vision is not compromised against harsh sunlight and glare. Popular amongst outdoorsmen, these beneficial lenses are useful gear for sports like fishing, skiing, golfing and jogging. The same powerful protection counted on by athletes can benefit everyday tasks such as driving a car.
Choosing polarized eyewear means enjoying dramatic glare reduction as you enjoy the outdoors. High sun exposure means dizzying light distortions and glare that can cause headaches and bring frustration as your vision is temporarily impaired. Polarized lenses have a filter that blocks the horizontally reflected light that causes these impairments – achieving a high level of comfort and visibility even amidst high sun exposure. Much like protecting the surface of your skin with sunscreen at times when the sun is at full force, the eye is a sensitive mechanism that needs apt support. Sunglasses equipped with a UV filter protect the eye and retina from potentially harmful ultraviolet radiation. For outdoor sports, polarized sunglasses also bring layer of protection against dangers such as fishing hooks. Polarized pieces often comes in a thick, wrap around style that fastens tightly to the bridge of nose and over the ears. This is an optimal style, adding a level of protection since it blocks light from entering in the sides and the secure fit prevents the risk of the eyewear becoming lose or distracting and potentially falling off. This style is an attractive, modern way to wear polarized eyewear.
Regular sunglasses and eyewear can only go so far in protecting your eyes and enhancing sport performance. For total coverage and an added competitive edge, along with a stylish look, only polarized eyewear will do.